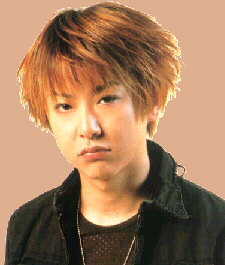 JIRO
Real Name : Yoshihito Wayama
Position on Glay: Bassist
Birthday : October, 17 1972
Hometown : Hakodate , Hokkaido
Starsign : Libra
BloodType : A
Family : Parents, 1 elder sister, and 2 younger sisters. Jiro was married recently.
Interests: Playing guitar and bass. Photography, Baseball, Skateboarding, Billiards, and Fishing.
Jiro's Fave Musicians: Kurt Cobain, Flea (Red Hot Chili Peppers)
Jiro is Glay's talented Bass player. He's knows for his 'baby face' and colorful outfits and hairstyles.
Flame's Opinion on Jiro: Jiro is a super talented musician. He might look childish with his kawaii little boy face and hyper personality on stage, but Jiro is a serious guy. He's always been into family and settling down and I respect that.
Favorite Jiro "Quotes": "I want to be a father who is respected by my children", "I can't carry a conversation when I'm alone with Hisashi. That cool Hisashi becomes shy. Probably we become too conscious of each other because we're similar."
Jiro Pictures