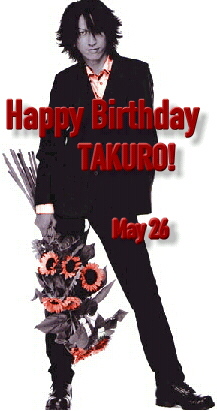 I sing with all my strength, just like a flower at the side of a road..if you would feel the same way too, the days we can't meet will be okay.... Without plans, we started on a journey. Put up a southbound sail to the unmoving soul. At this world full of sadness, and on lonely nights, all we can do is fall asleep to someone's soft lovesong.~Kokodewanai,Dokokae translation by Nami from Morning Moon

Welcome to Flame's GLAY Corner! FGC was just created Feb. 2001 and it's updated often. This page is a humble tribute to Flame's favorite Japanese Rock band...GLAY! There are lots of great Glay sites out there on both Japanese and English, but this is just my little corner dedicated to Glay, and the members and fans of Glay all over the world. Please e-mail me if you have any Glay FanArt or anything cool you would like to contribute to the page. Thanks for stoping by! Thanx for the music Glay!
UPDATES/ NEWS:
*5/17- Got the May 2001 issue of 'What's In' and posted brand new pictures on all members corners, including group photos page. *5/9- New screencaps from 'Hit the World 97'! *4/29- Check out all my new Glay video screencaps! Lots more coming soon! Also new fanart! *4/24- New Glay Puzzle on FanArt corner! *4/19- View Glay's latest PV on their Global Communication site! Clink on link to get there now!

*4/18- More fanart! *4/6- Glay's GLOBAL COMMUNICATION SITE is on line now! Stop by to listen to Glay's NEW single "Global Communication" now!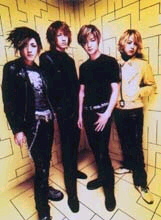 Global Communication official released day is April 25, 2001 *4/4- New Glay Fans Messenger courtesy and thanx to Cherie from a 'A TRIBUTE TO GLAY'! No download required! Sign in today for the free service to meet and chat with Glay fans around the world while surfing the net. *3/20(Glay Pics)-screen caps from Glay's special message to fans on their official site 3-16. *3/12- NEW Glay / J-Rock Message Board! 3/7- Two new sections- FanArt, and Glay Pics!